How can MNOs maximize monetization of SMS messaging
Operators' core revenues have been shrinking since 2012. Voice margins are decreasing, and SMS messaging has also suffered an impact from OTT messaging apps. SMS market has survived the initial shock caused by IM applications. Moreover, SMS traffic is now growing because the use of SMS has become very popular among enterprises. A2P messaging market is booming and is estimated to be worth $70.32 billion by 2020.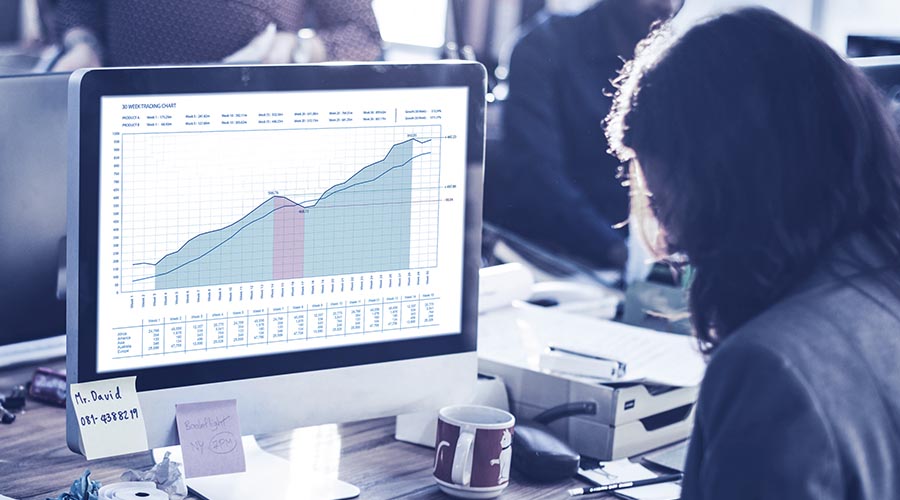 Seize the multi-billion dollar A2P SMS revenue opportunity
Worldwide SMS traffic will reach 11 trillion by 2022, while A2P SMS traffic will reach 2.7 trillion, a growth rate of 4.6% CAGR.
MNOs have a unique opportunity to capitalise on the power of A2P and overtake this lucrative niche from OTT players as wholesale resellers and aggregators. Being the first in a wholesale value chain with long-lasting partnerships with other operators, MNOs have a significant advantage to make profitable new business cases and meet the targets.
For this reason, MNOs are now searching the best business solutions to manage SMS messaging which will automate routing, pricing, reporting, billing as much as possible and provide monitoring and testing tools to help find and fix problems to prevent losses or find new opportunities to increase profit.
Juniper predicts that by 2022, all operators will have some form of SMS platform connectivity and 100% of all A2P traffic will be handled by third-party platforms.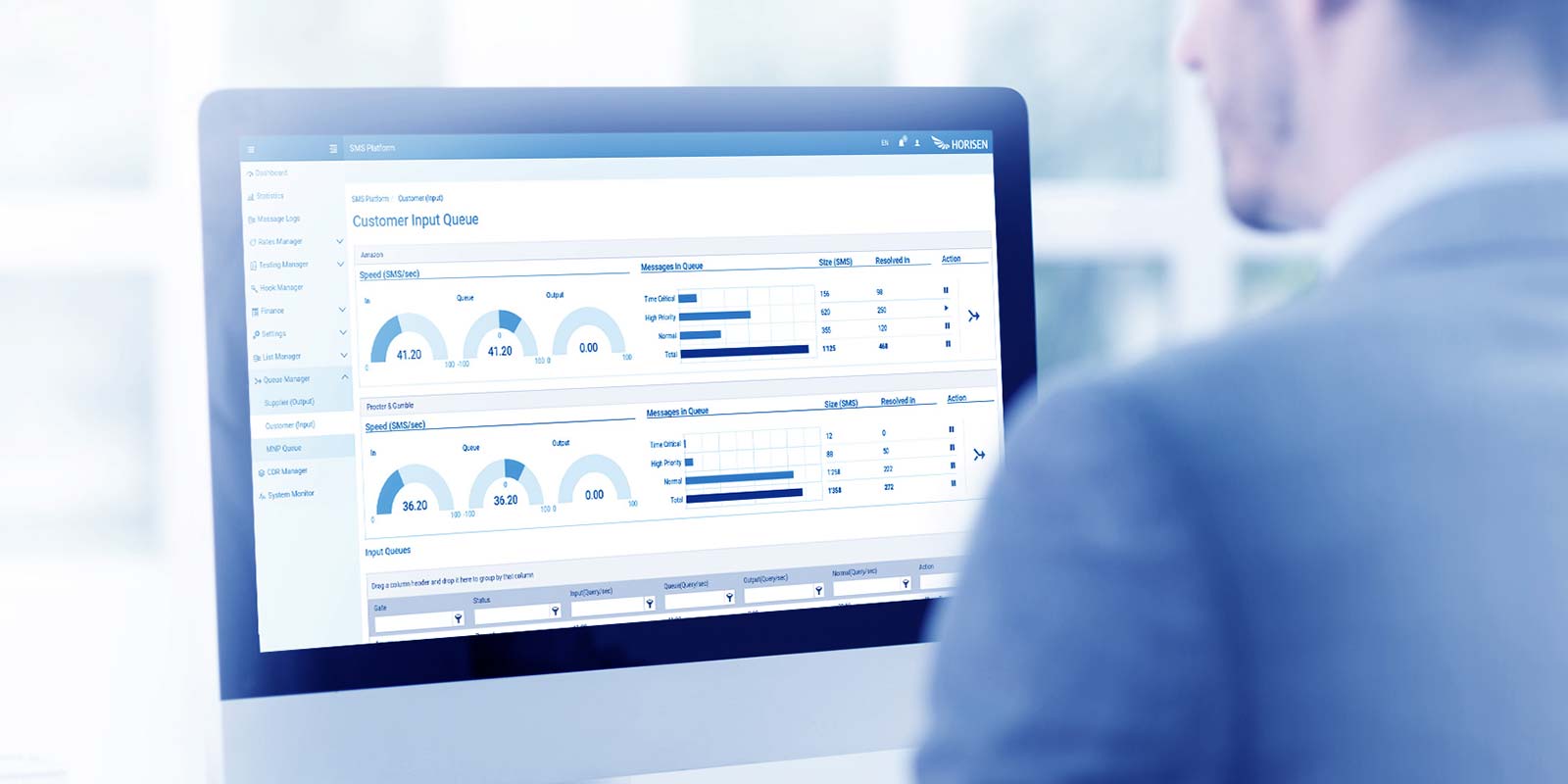 HORISEN SMS Platform: the ultimate solution for SMS monetization
A single platform that simplifies and automates all aspects of SMS wholesale business.
HORISEN SMS Wholesale Trading Platform is a secure, user-friendly and target-driven software built only for SMS wholesale business. It helps you make the best decisions to increase the revenue and profit margins in the profitable A2P niche market.
Our platform is a fully-equipped suite made to enable the entire wholesale trading from a single place. It is a hosted, turnkey SMS trading solution, featuring flexible routing and pricing management, robust monitoring and testing tools, automated finance and billing system, real-time statistics and CDR viewer.
Built-in SMS firewall and filtering options provide critical data on suspicious messaging traffic coming from grey routes. Empower your Support team to quickly detect and prevent the negative effect of grey-route messaging on your margins.
Being the fully managed cloud solution, SMS platform lowers your operational costs and helps you increase the overall messaging revenues.
What can you do with our SMS platform?
End-to-end SMS trading business
Spread SMS business worldwide (A-Z countries)
Enter the global wholesale messaging market
Become a leader in the wholesale niche
Connect with other relevant players
Capitalize margins made from SMS wholesale
Establish good relationships with other telecoms
How can you increase revenue with our platform?
SMS revenue assurance platform
Track traffic performance in real-time; find the opportunity to increase the profit
Optimize routing and pricing to the slightest detail to maximize profit
Split SMS traffic by different rule-based routing scenarios to increase margins
Detect grey-route SMS traffic to avoid losing money
Monitoring & filtering options enable full SMS monetization
Decrease time-to-revenue; automated workflow speeds up routing & pricing choices
How can you save money with our platform?
Cost-effective SMS software
The automated and fully managed solution reduces operational costs
Reduce routing operations costs with intelligent & automated routing
Detect and prevent the negative effect of grey-route messaging on your margins
Optimize the number of employees in support or routing; we provide 24/7 technical support
Built-in automated finance & billing reduces accounting costs
Automated, 100% web-based software: no CAPEX, extremely low OPEX
Main features with benefits
A comprehensive set of features for managing and optimizing your SMS wholesale business.
1. STATISTICS
SMS traffic overview with profit data
Detailed reporting, sophisticated filtering options and granular drill downs to individual messages. Locate possible connectivity issues and act immediately to prevent potential revenue loses, or identify an opportunity to increase the revenue. Quick decision making powered by delivery graphs and interactive charts.
2. MESSAGE LOG
Real-time CDR viewer
The essential tool for the Support department. This is the main diagnostics tool when you receive customer ticket. It provides the detailed data which help your support team solve the troubling ticket: DLR status, message ID, input and output timestamp, routing delay, MCC+MNC, DLR delay, supplier gate, message type and more.
3. ROUTING & RATES MANAGER
Margin-based routing
Smart routing and price management in the same place. Optimize routing and pricing to the slightest detail to maximize profit. Automatically root the traffic for each network individually and change rates by the operator, set direct fallback, add gates or reroute to those with better prices. Increase margins, send reports, divide traffic to keep your suppliers happy – all in 5 minutes.
4. FINANCE & BILLING
Real-time financial control
Automatic invoicing and real-time billing. The software automatically generates customer invoices and sends them out. Automated billing reduces costs and makes the whole accounting process easier. Manage balances per each customer account, create postpaid invoices and manage top-up credits for prepaid customers. Easily track unpaid invoices, manage credit & debit invoices and import suppliers' invoices.
5. TESTING & MONITORING
Real-time message testing
HLR/MNP tests, number analysis for fake DLRs. In case of suspicious DLR or customer ticket, you can quickly jump to the Testing Manager and check if the message has been delivered. Furthermore, you can quickly test every number by its prefix.
6. SMS FIREWALL & FILTERS
Stop grey route traffic
Intelligent SMS Firewall detects and blocks SPAM messages and applies different filtering options (by sender ID, CLI list, recipient lists, message content) which helps you optimize costs to have full SMS traffic monetization. Prevent revenue losses by detecting non-monetized messaging.