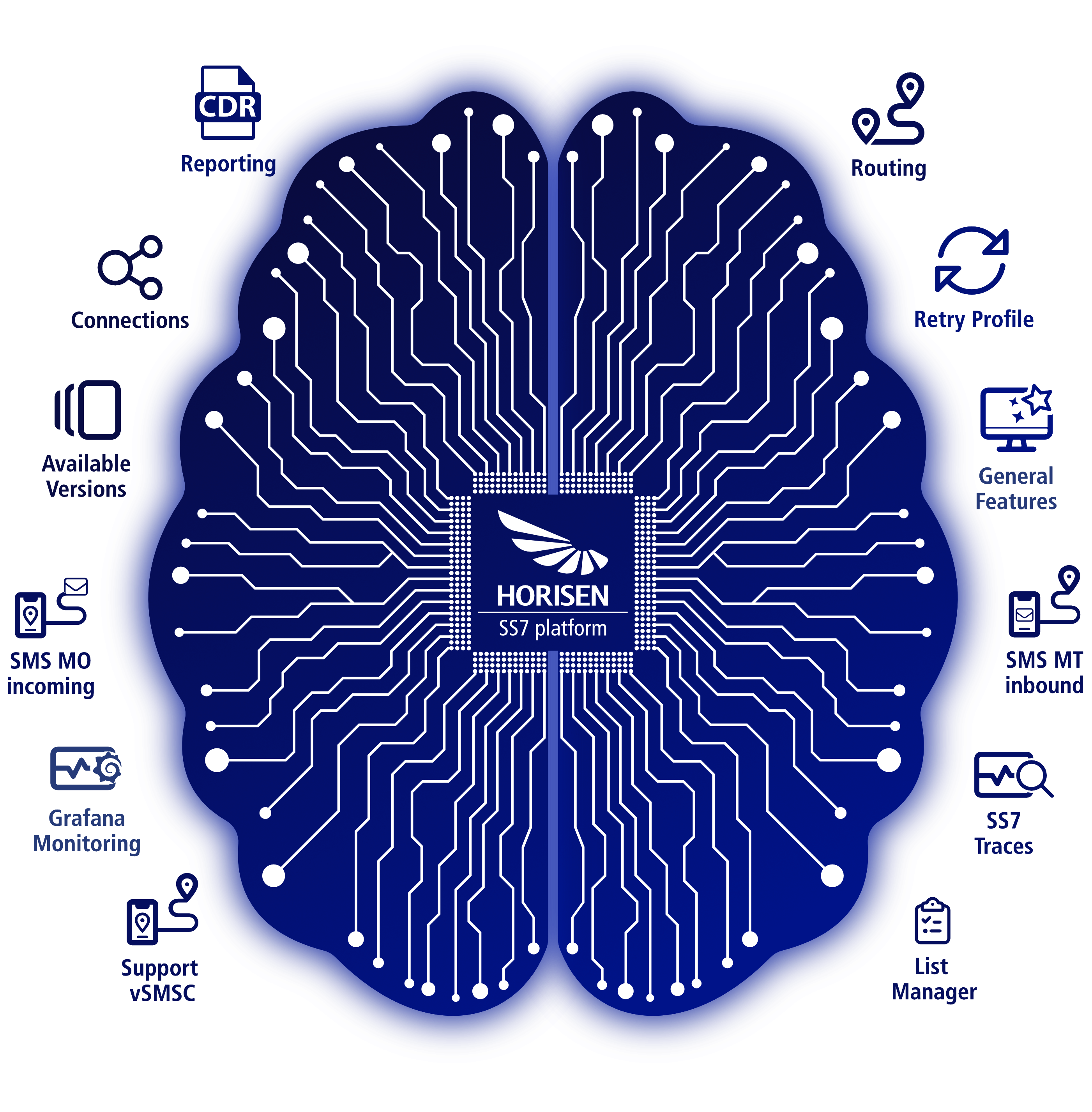 Professional SS7 signalling product built
Professional SS7 signalling product built for messaging purpose
Reliable. Scalable. Vendor-neutral.
Ensure reliable and scalable SMS delivery with HORISEN SS7 Platform.
High-performance SS7 Platform
Reliable and scalable protocol conversion between SMPP and SS7
HORISEN SS7 Platform is an easy-to-manage signalling product for sending SMS traffic or HLR Lookups worldwide via SS7 networks. With its quick and easy setup process, it allows companies to connect any existing SMSC Gateway to HORISEN SS7 Platform via SMPP and connect to the preferable Signalling carrier, MNO, MVNO via SIGTRAN.
BUILT FOR PROFESSIONAL SS7 TECHNOLOGISTS!
A comprehensive set of features for
seamless transport of SMS traffic via SIGTRAN
Highly scalable throughput
Fully redundant solution
Protocols: HTTPs, SMPP, M3UA SIGTRAN
Data coding: GSM 7-bit '03.38', USC-2, binary SMS
Throughput minimum 10'000 transaction per second
Support MAP version: v2 and v3
Support of multiple signalling point codes
Support of multiple signalling and SMPP connections
Support SMS MT outbound, SMS MT inbound, SMS MO incoming
Customisable timeouts
Transparent error mapping from SIGTRAN into SMPP
Continuous updates of SS7 Platform software
Fixed routing: link a specific SMPP trunk with a particular SIGTRAN connection

SMPP TLV: route traffic through a particular signalling carrier by using different SMPP TLV values

Load-Balancing: balance the traffic between SS7 signalling links
Connect the existing SMS gateways over SMPP or HTTPs

Connect to MNOs, MVNOs or signalling carriers over SIGTRAN

Make HLR queries over HTTPs API
Each transaction is stored in CDR

Optional: SS7 CDR can be pushed over sFTP

CDRs can be divided based on the file size or time duration
SS7 pcap files captured continuously

Optional: SS7 pcap files can be pushed over sFTP
Fully customisable
Create own error codes categories: permanent or temporary error codes
Create own retry logic for each error code
The validity period checked for each message in the retry queue
Support GSM MAP Forward_SM_MO messages

Support Allow/Block SMSC GT lists

Check the validity period of received SMS MO messages

Support SMS MO SS7 CDR

Support routing SMS MO messages to specific SMPP account
vSMSC support
Support GSM MAP Forward_SM_MO messages
SMSC GTs whitelist
Validity period check
CDRs for SS7 SMS MO
Routing SMS MO messages to specific SMPP account
vHLR & vMSC/VLR support
Support HLR DB: information about each MVNOs/MNOs
IMSI constructor
CDRs for SS7 SMS MT
Routing SMS MT messages to specific SMPP account
Filtering messages as allowlist/blocklist within different layers:

SCCP layer
TCAP layer
MAP layer
SMS TPDU layer

Support for combinations of allowlist/blocklist rules
Grafana Monitoring of SS7 traffic
Overview of the full platform performance
Possibility of defining own dashboards
Live updates of the platform status
Overview of total TPS: SMS MT Outbound/SMS MT Inbound/SMS MO traffic
Real-time monitoring of SMPP/Sigtran connections and MO traffic
Monitoring if messages are successfully delivered for SMS MT, SMS MO and MNP queries
Very competitive offer

Quick and easy setup process

Dedicated SS7 support

Easy-to-manage SS7 Platform

Flexible routing management

No need for an ISPC in case of using HORISEN signalling service
GT implementations

Provision of new signalling links upon customers' request

Monitoring customers' signalling links

Troubleshooting support 24/7