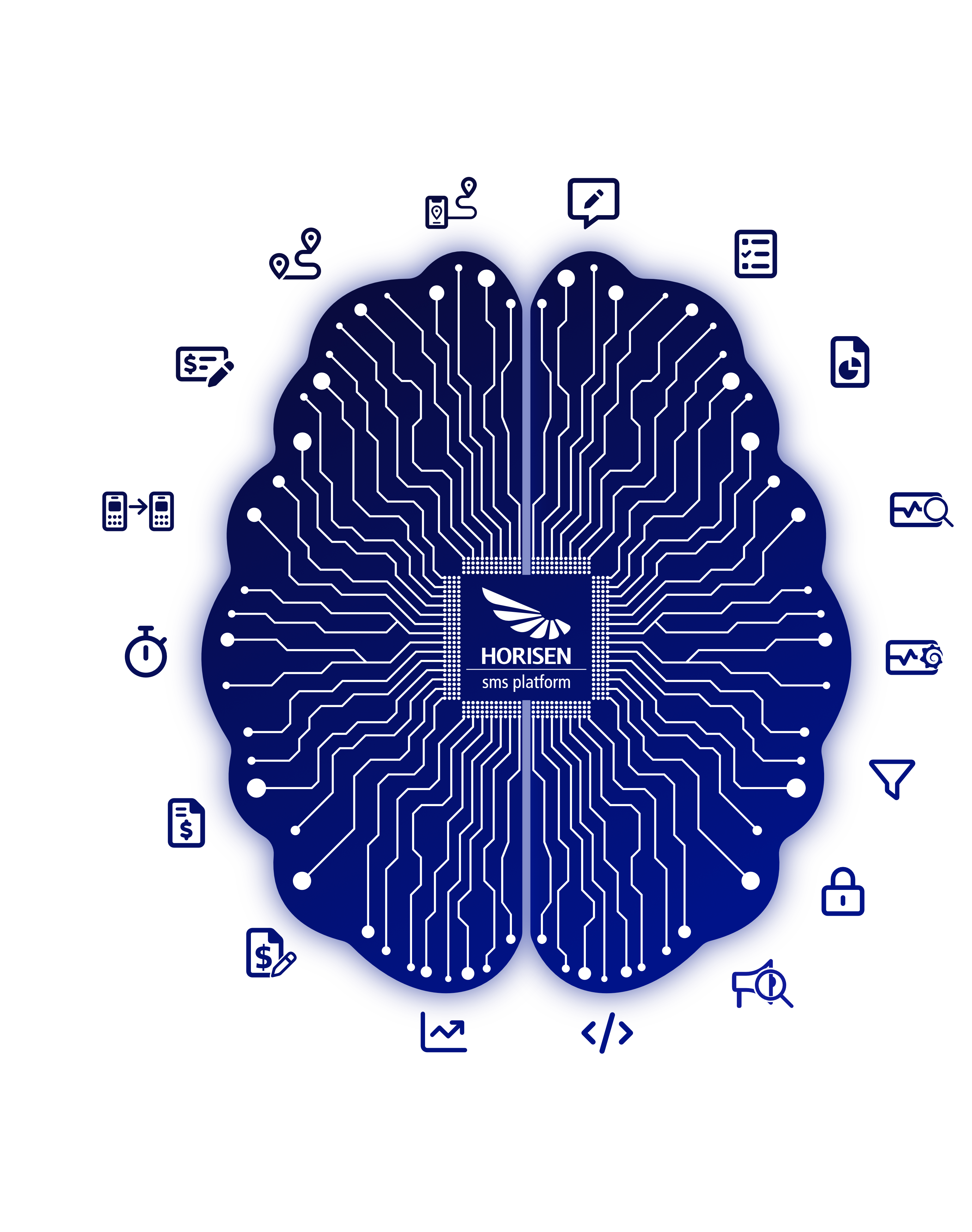 Smart SMS Platform
Smart SMS Platform –
the turnkey solution
for SMS trading
All-in-one. Feature-rich. Easy-to-use.
Scalable and robust SMS Platform that grows with your business.
All-in-one SMS Platform with powerful features
Run successful wholesale and retail SMS business from a single spot
HORISEN SMS Platform is a feature-rich, extremely scalable, and robust messaging technology solution for managing all aspects of SMS wholesale and retail business.
It is an all-in-one messaging tool with automated rates import, fully flexible and sales-driven routing, and rule-based routing. Simultaneously, HORISEN SMS Platform addresses all aspects of SMS trading business and offers self-service comprehensive monitoring with more transparency. With powerful APIs, customers can conduct high-quality monitoring of information more independently. Moreover, its high-security standards guarantee a safe environment for growing SMS trading business.
The platform is available either cloud-based or as an on-premise version.
SCALE UP YOUR MESSAGING BUSINESS WITH HORISEN SMS PLATFORM!
A comprehensive set of features for managing and optimising the entire SMS trading business
Cloud-based SMS trading platform tailored for wholesale and
retail business
On-premise solution on the edge of available technology 
Easy-to-use and intuitive interface for running SMS trading business
Extremely scalable – the ability to scale up to billions of messages per month
Fully managed platform: no engineering support required
No limitations in the number of connections, customers, users,
rate plans, etc.
Optimised workflow to maximize automation
High throughput of +20 Mio SMS/hour, easily extendable
Auto-rebinding connection process if a connection is down
Intuitive routing engine with sophisticated routing rules and conditions
Fully redundant, robust and reliable system: min. 99.999% availability
White-label support – brand the portal with your corporate design
Support for all existing SMS features
Support for all character sets: GSM 03.38, 16 Bit Unicode (Arabic, Asian, Cyrillic)
MNP Support: Number portability support to maximise delivery
Manage everyday wholesale or retail business with the least effort from a single place!
HORISEN SMS Platform is the state-of-the-art messaging platform with its automated rates import, fully flexible and sales-driven routing and rule-based routing.
Fully flexible, sales-driven routing and rule-based routing
Powerful, laser-precise and superfast rule-based routing editor
Conditional routing allows total control: route based on Sender ID, message content, destination, encoding/data coding, TON and NPI etc.
Option to modify, navigate or reject the messages after targeting the traffic
Define routing and rules individually for each customer
Increased routing scenarios by defining one or multiple rules and conditions for a network
MNP/HLR-based routing to maximise delivery
Load balancing over several suppliers
Set routing priority conditions for time-critical traffic
Routing changes are activated in less than 10 seconds
Enhanced least-cost routing (LCR)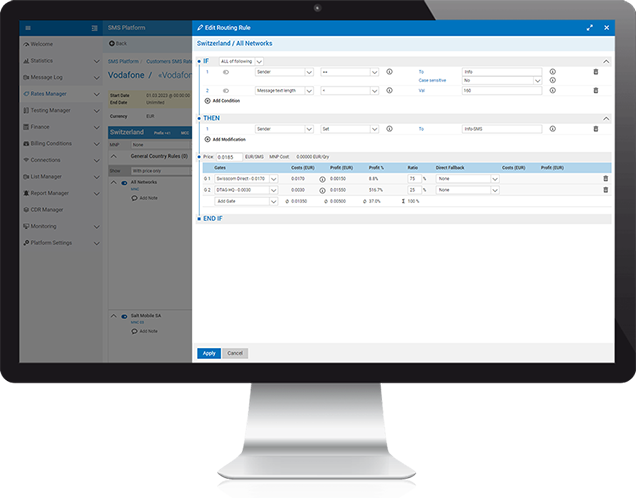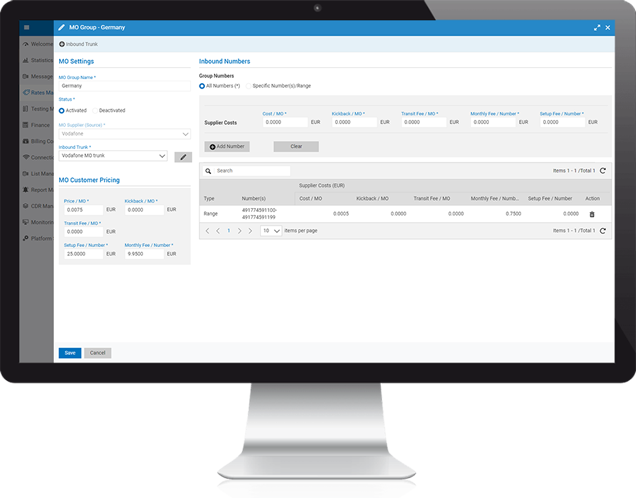 Route incoming traffic from the inbound numbers
User-friendly interface
MO customer routing to allocate necessary details, supplier trunks, and costs
Connection setup deciding on customers to be included in MO configuration
Flexible MO routing options for each message
Efficient management of traffic flow with defined rules
Priority Control: define delivery priority rules for each connection
Sophisticated queue control: buffered SMS can be paused, restarted, prioritized, rerouted, and rejected
Control of incoming and outgoing SMS is handled separately
DLRs are handled in a separate queue, not to affect SMS traffic
Retry schemes based on error codes and routing rules
Asynchronous message handling to maximise delivery
Throttling: adjustable throughput limits in SMS/second
Built for professional
Messaging Technologists
Let us help you find the best solution
for your messaging business.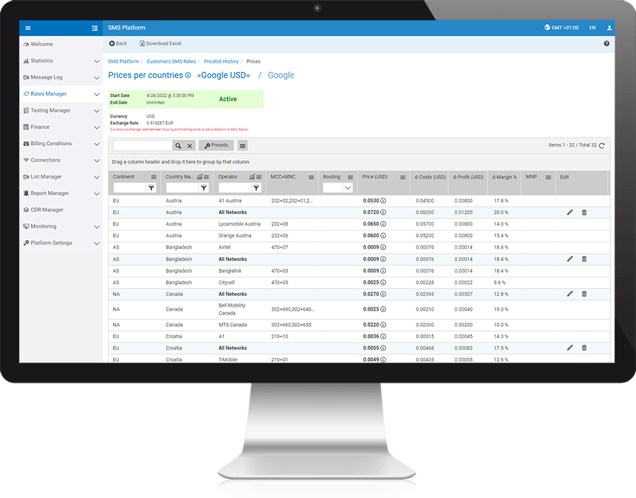 Fast and simple price management
Rate plans manager with negative margin indicator
Integrated currency converter
Create standard rate plans or individually tailor-made per customer
Create multiple rate plans for the same customer
Import and download MO Price List
Automatic issuance of the rate changes to the customer
Auto import of your suppliers' price updates
Create and easily manage special prices for your customers with Product Price List Exceptions feature
Find the lowest cost for MNP per Routing Source that is available on the Platform
Manage the entire administration and finance from a single pane of glass with our automated solutions!
HORISEN SMS Platform is the all-in-one messaging technology solution that addresses all aspects of SMS trading business via an easily navigable interface.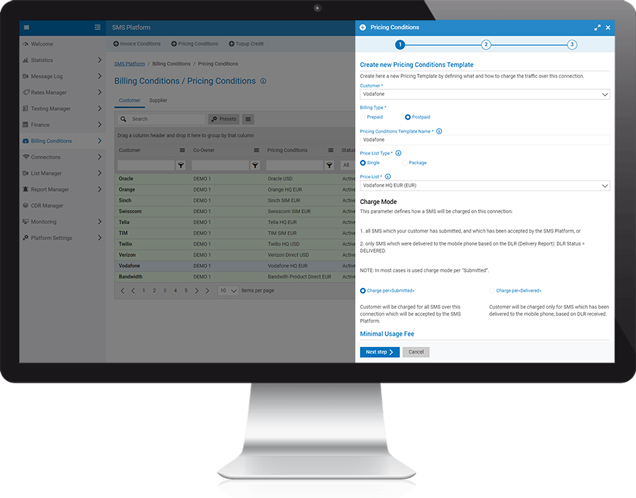 Real-time billing for postpaid and prepaid connections
Multiple balances and billing accounts per customer and supplier
Credit management and alerts for balance and overdraft
Support of multiple currencies, taxes, and languages
Easy integration with your existing company billing system with our sophisticated Finance API
Export of rated CDRs via scheduled uploads to your sFTP server
Possibility to use your own existing billing platform
Automatic invoicing to your customers
Management of financial-legal activities such as netting statements and disputes
Fast and easy credit top-up including auto-invoicing
Define individual payment terms and discounts types
Customisable templates for generating invoices
Flexible reminder settings for unpaid customer invoices
Powerful Finance API for integration with your bookkeeping system
Download of detailed financial data as an Excel File
Create the Netting Credit Report for both customers and suppliers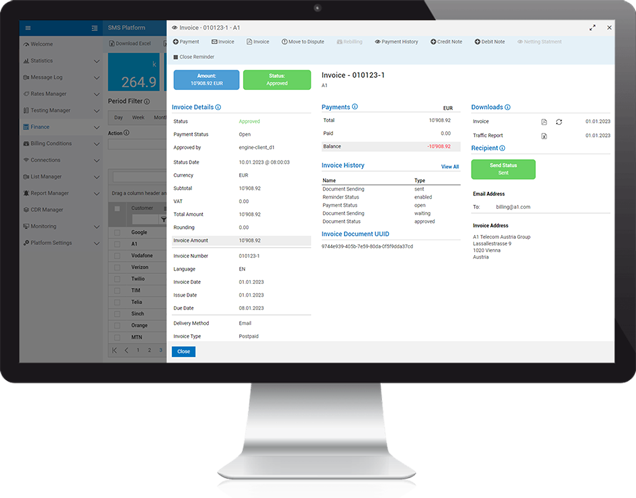 Monitor the entire SMS business for timely decision-making and project accountability!
HORISEN SMS Platform offers self-service comprehensive monitoring with more transparency. With powerful APIs, customers can conduct high-quality monitoring of information more independently.
Real-time and detailed reporting
Comprehensive presentation of commercial and quality data

Graphical presentation of results with interactive charts

Advanced filter function with high granularity

Sophisticated drill-down possibilities

Export statistics as Pivot Table for further analysis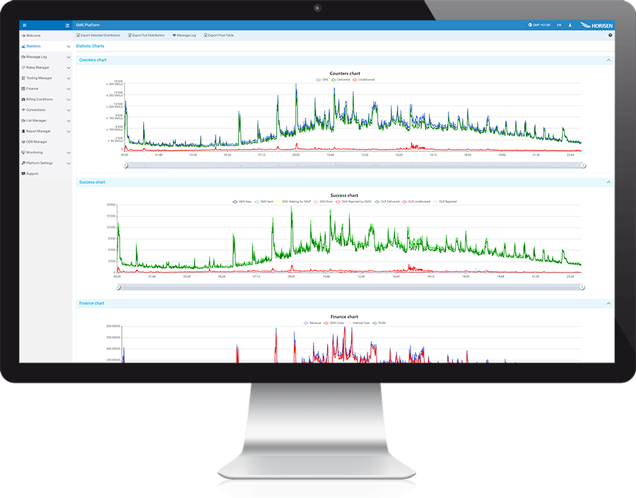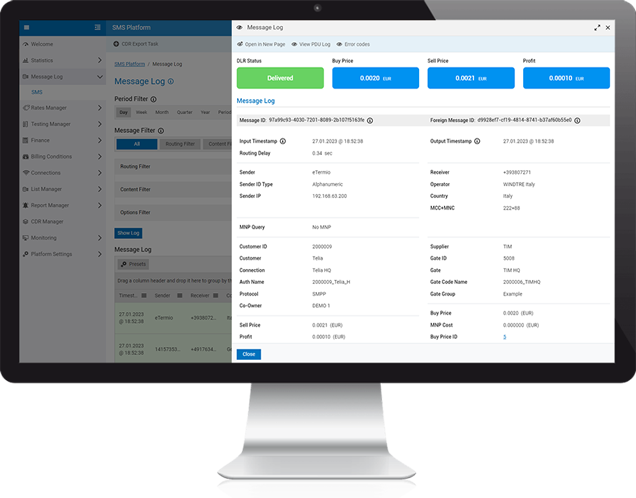 Browse your CDRs in real-time for each message
PDU Logs for accelerated message troubleshooting, downloadable in JSON

Filter the messages by period, routing, content and DLRs

Ultrafast detection of messages which should be analysed

Possibility of saving chosen set of filtering options as a preset

Detailed, complete, and comprehensive data presentation

Download detailed logs for up to 2'000 messages at once

Detailed list of error codes
Fast and individual export of detailed CDRs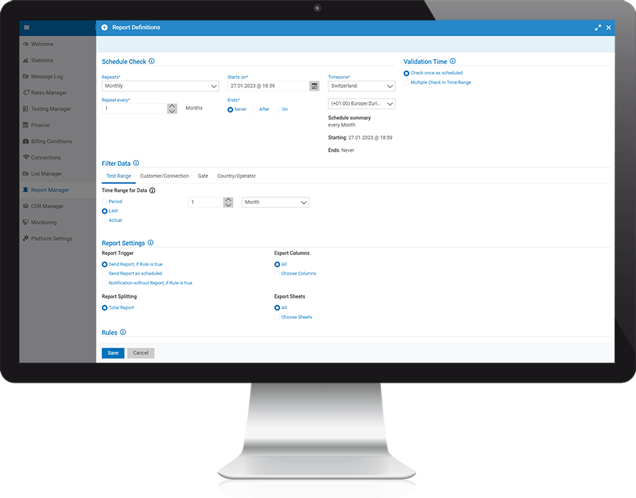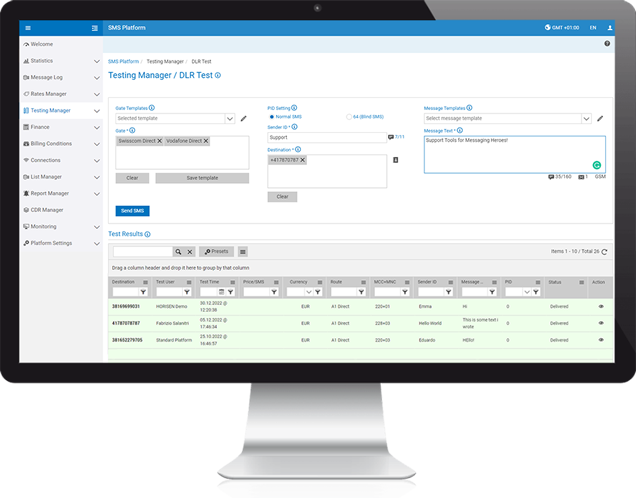 Reliable testing for more accurate results
DLR testing: test any number «on the fly» to check DLR results
HLR/MNP testing: test any number to verify HLR/MNP results
Open to connect easily any 3rd Party Testing Solution
Overview of the full platform performance
Possibility of defining own dashboards

Live updates of the platform status

Loki dashboard for showing information on connection logs

Status indicator showing if the connection is successfully or unsuccessfully established

Real-time monitoring of SMPP connections, HTTP, gates, queues, time, traffic volumes and MO traffic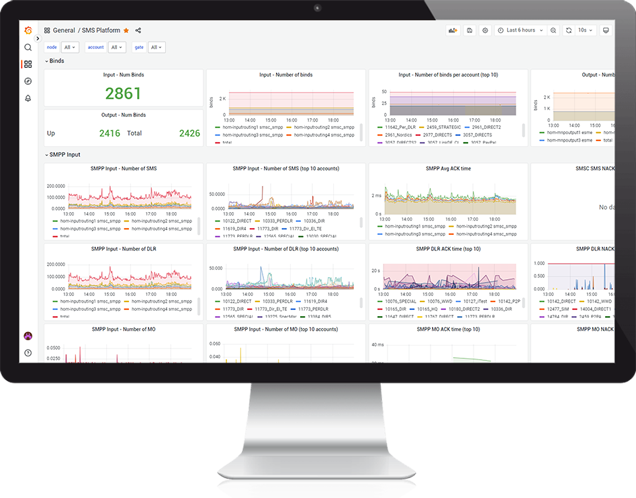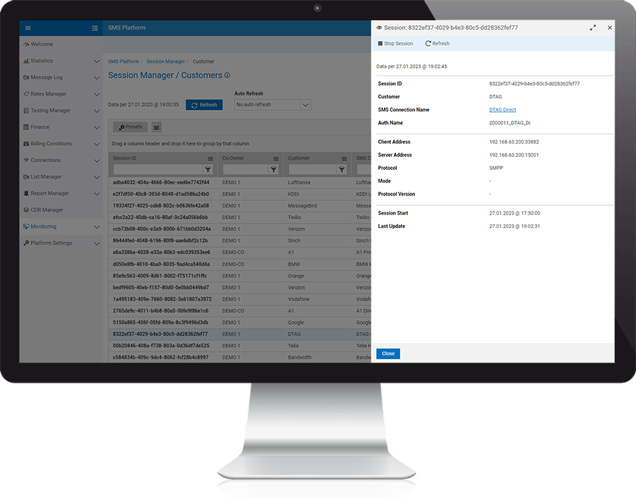 Session and Queue Monitoring
Successful supervision of sessions and queues
(Re)start customer and supplier sessions with a click of a button
Track Customers'/Suppliers' connection status with detailed information
Track Suppliers' traffic queue
Monitor MNP queries' queue for MNP suppliers
Track and easily manage all detected campaigns
Manage the campaign's status, classify the campaign by setting a message classification, and set priority

Notice spam campaigns and set specific routing rules for those campaigns

Filter campaigns based on the number of total messages for better insight into the traffic

Determine the origins of the campaigns based on the respective customers

Analyze the metrics to make informed decisions and optimize your messaging and strategies
Filtering options based on numerous variables
Content filter for detecting and blocking unsolicited messages

Destination filter: SMS are filtered based on recipient lists

Originating filter: SMS are filtered based on Sender ID list

Content filter: SMS are filtered based on message text

Individual filter: SMS can be filtered based on your own rules
Built for professional
Messaging Technologists
Let us help you find the best solution
for your messaging business.
Manage the entire messaging business from a highly secure platform!
HORISEN SMS Platform is a messaging technology solution built according to the highest security standards and it is being continuously monitored for any possible vulnerabilities.
Highest Security Standards
Highly protected platform 
GDPR compliant

Data is hosted on HORISEN cloud environment in DC in Switzerland

Servers are collocated in a bank-certified data centres

State-of-the-art layered security measures applied to protect the platform
Redundant DDoS Protection on ISPs level (to receive only cleaned IP traffic)

Connections are restricted by IP address, only trusted IPs allowed

VPN connectivity is available on request

IPSec and TLS connections for customers as security best practice
24/7 managed SMS Platform
SCALE UP YOUR MESSAGING BUSINESS WITH HORISEN SMS PLATFORM!
HTTP(S) SMS API: Send SMS and receive Delivery Reports over the HTTP/HTTPs protocols

HTTP MNP API: Discover Mobile Number Portability information about given MSISDN

CDR Export API: Schedule the export of CDR files in CSV format

Inbound

SMS API: Provides real-time MO SMS forwarding to the 3rd-party system

Premium Transit API: Provides receiving of MO SMS messages and sending of MT SMS messages via standard HTTP protocol

Finance Document API: Access all financial documents easily

Traffic Report API: Create traffic reports for the BULK SMS API
Protocols for connecting customers: SMPP, SMPP over SSL, HTTPs

Protocols for connecting suppliers: SMPP, SMPP over SSL

SS7 Protocol: SIGTRAN

Protocols for MNP: HTTPs, ENUM