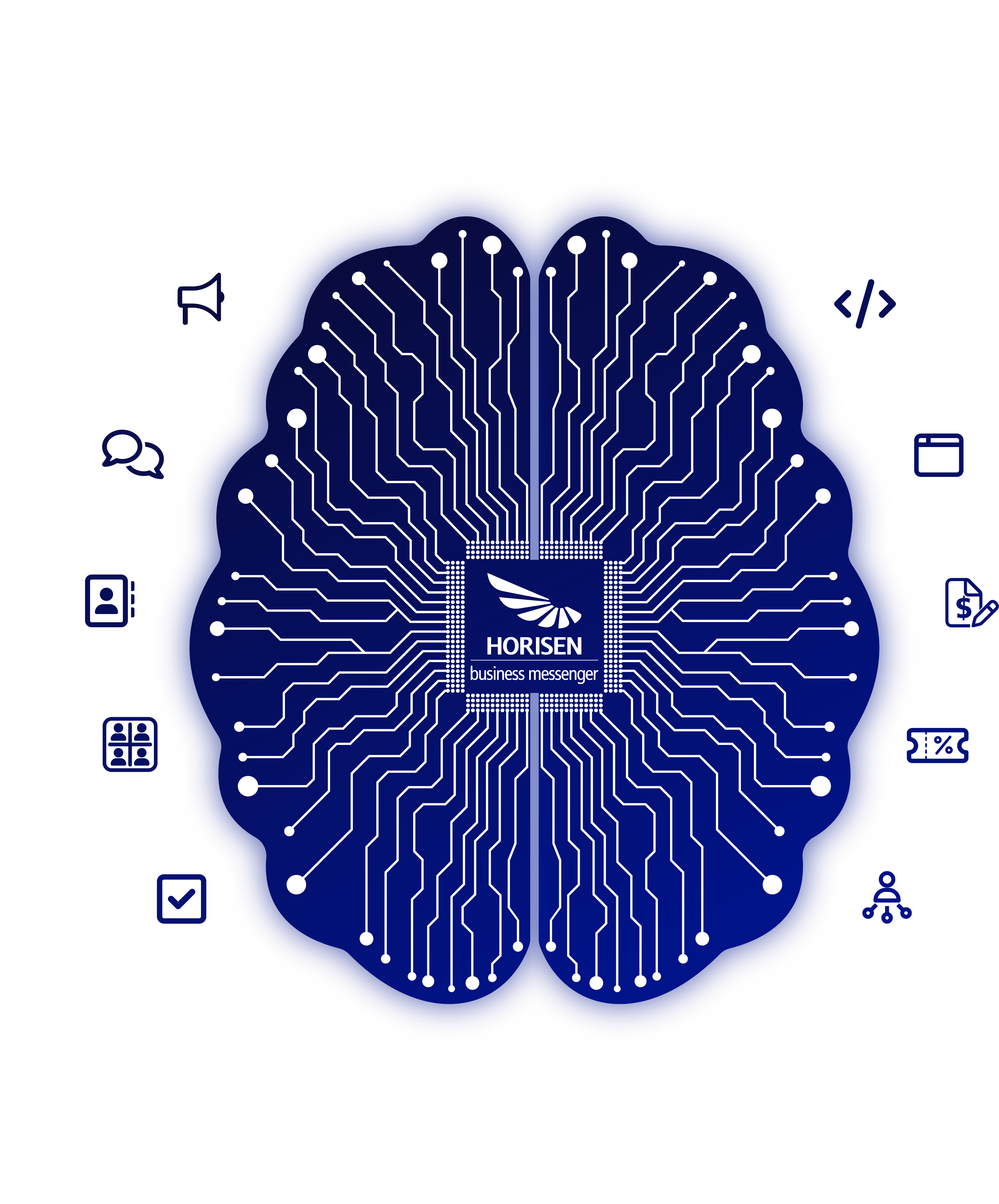 All-in-one-platform for smart omnichannel communication
All-in-one platform for smart omnichannel communication
Feature-rich. User-friendly. Efficient.
For Messaging Superheroes who create awesomeness with messaging.
Highly intuitive platform with powerful features
Engage the right audience with relevant and timely messages
HORISEN Business Messenger is a feature-rich, user-friendly messaging technology solution for orchestrating seamless communication across multiple channels. It is a highly intuitive, sales-driven platform with powerful features enabling one-way broadcasting or two-way chats, thus providing the target audience with relevant and timely messages. It is a fully APIfied platform that can be on-premise or cloud-based.
TAKE YOUR MESSAGING BUSINESS TO THE NEXT LEVEL NOW!
Send campaigns simultaneously and easily through multiple channels to the target audience!
Create campaigns in five-step wizard quickly
Create and execute an unlimited number of campaigns easily via a highly intuitive interface
Use rich media content like images, videos, carousels, emojis, etc.
Create message templates for repeated use
Segment recipients based on subscription preferences or specific data fields
Add opt-in/opt-out forms, trusted short links, and landing pages to the messages easily
Test campaigns thoroughly before executing them
Get an overview of detailed campaign statistics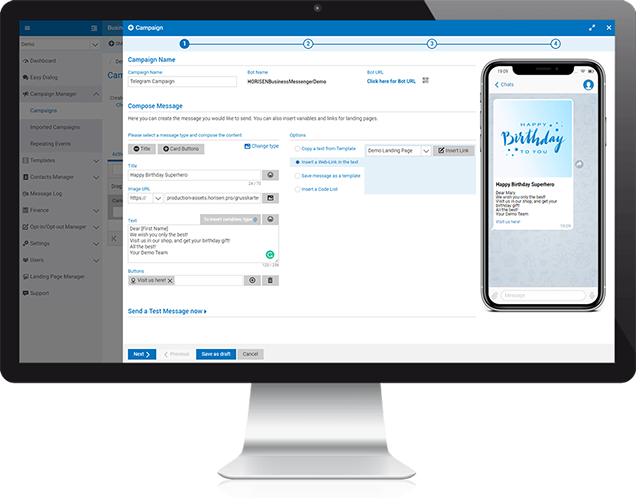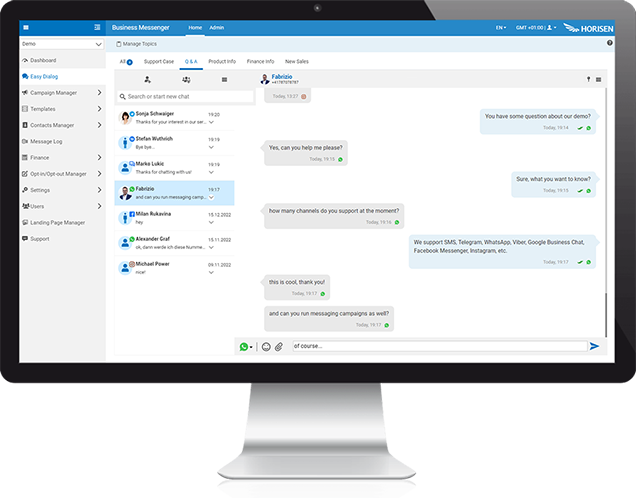 Maintain one-to-one chats with your audience through their preferred channels!
Enhance communication via two-way chats through the audience's preferred touchpoints
Connect any chatbot with our Bot API and take over the chat flow with the user
Have a complete overview of chat history
Sort chats by topics for easier chat management
Send rich content like images, videos, emojis, etc.
Chat support for SMS, WhatsApp, Telegram, Viber, Facebook Messenger, Instagram, Google Business Chat, RCS, etc.
Store unlimited data sets for an unlimited number of contacts!
Manage contacts in an unlimited number of lists
Manage the lists or contacts in groups by this powerful contact data store
Create own custom fields with relevant variables to enrich the data set
Use the unlimited number of custom fields for highly detailed customer profiles
Track opt-in and opt-out processes
Filter the contact inventory with the segmentation wizard
Import and update contacts via file upload or via sign-up forms automatically
Import and manage all contact data including custom fields via powerful API
Export selected/filtered contacts
Automatically update subscribers' status and preferences
Collect data about the customers and put them into action through more personalised and targeted campaigns in the future
Contacts manager is in compliance with GDPR requirements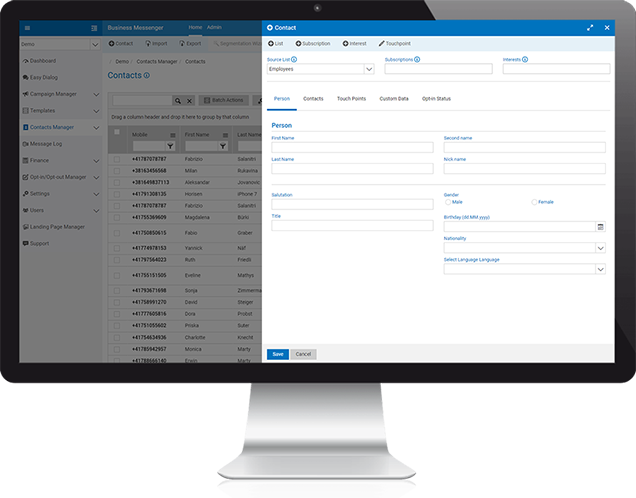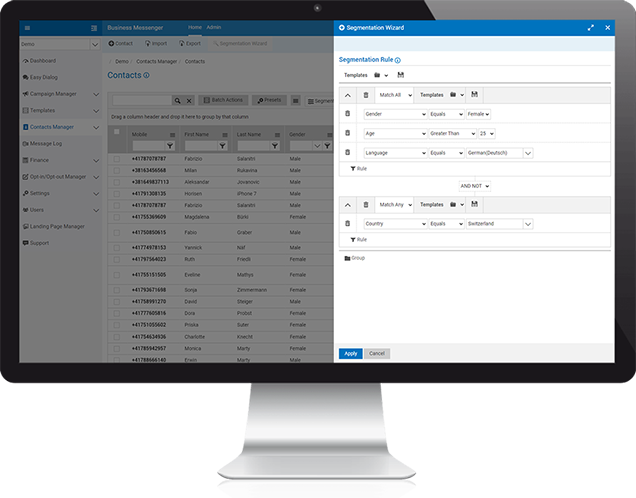 Use a wide range of filtering possibilities to categorise contacts with high granularity!
Highly intuitive, simple and fast tool
Create multi-rule segmentation templates
Create lists of different target groups
Save the target group lists for repeated use
Execute complex filtering operations easily without the need for programming
Filter millions of records within a second with a swift segmentation process
Use subscription preferences or custom field data for laser-precise segmentation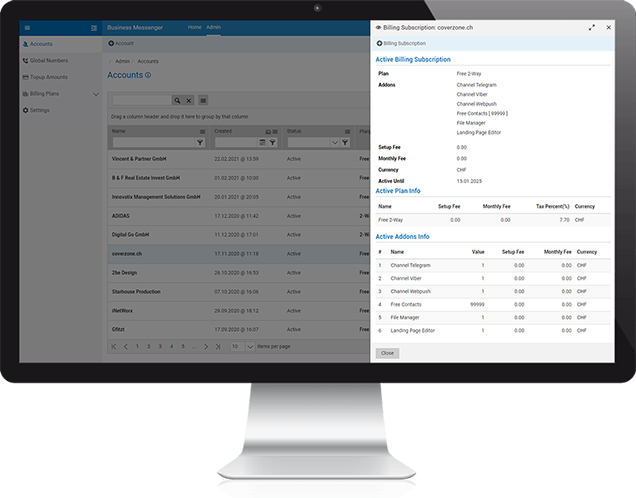 Administration and Finance
Manage all your clients' activities from a single place with minimum administrative tasks!
View all customer accounts at one place
Provide clients with a secure web-based interface for planning, sending and tracking campaigns and chats
Manage your entire finance and customer invoices from a single place
Use message log to support your customers
Top up credits easily
Funnel your audience easily without the need of an expensive 3rd party website!
Create landing pages in just a few simple clicks with drag and drop editor without coding
Create landing pages with your own HTML code
Add content blocks, edit them easily and see all changes in real-time
Enhance the workflow with statistic overview of performance
Media browser and CDN for easy and fast content delivery to the targeted audience
Add custom user tracking scripts
Trace and track, collect the data
Plan further steps based on provided analytics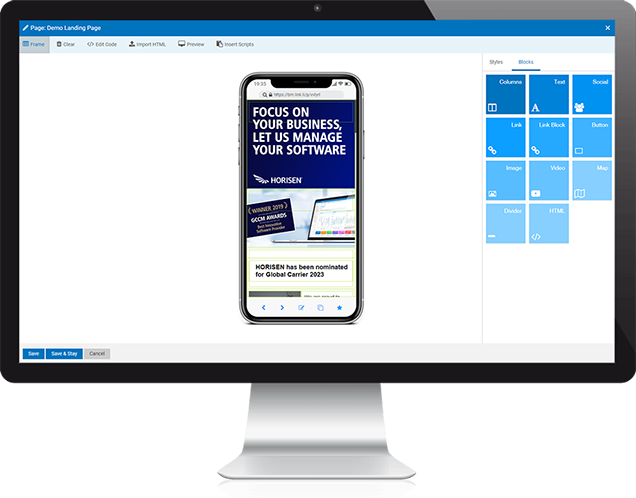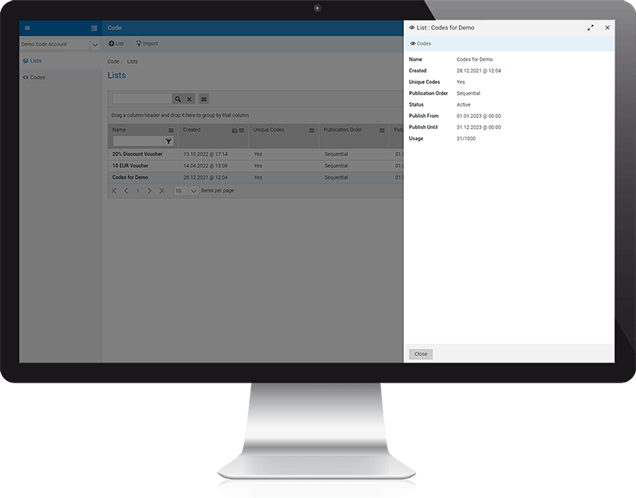 Increase conversion rates by providing customers with coupons!
Import codes/vouchers/coupons from any third-party platform such as e-commerce platforms etc.
Store and send the codes/vouchers/coupons to your users via different channels and rich message forms
Track all data about code redemption
Track all data to easily follow customer footprints
Manage the code duration and redemption
Predict and arrange future campaigns based on collected data
Facilitate the opt-in and opt-out processes!
Create opt-in and opt-out forms for certain campaigns for all or a specific subscription
Add web-based opt-in and opt-out forms available for each channel for easier management
Add opt-in and opt-out rules available for each channel for easier channel management
Customise Web form style
Customise opt-in and opt-out rules style
Store contacts in the specified contact list by creating rules
List and manage opt-in and opt-out forms easily
Get a detailed overview of created forms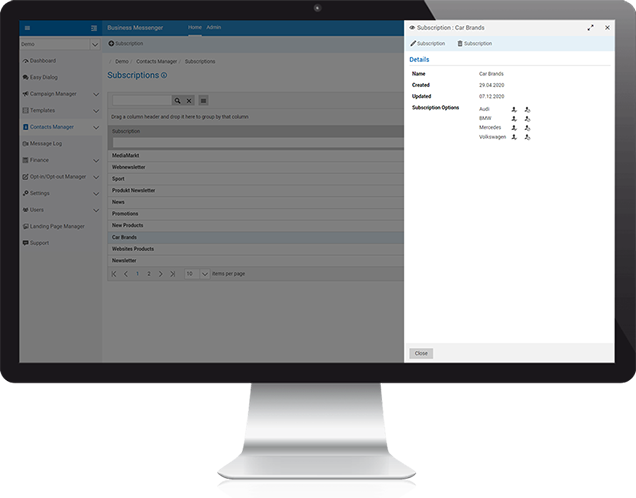 HORISEN's API-centric approach in the development
HORISEN Business Messenger is fully API-fied platform, easily integrable into the existing environment. Like for all HORISEN messaging technology solutions, various APIs are provided so all systems can talk to each other without any limitations or restrictions. Moreover, Business Messenger APIs help set up channels, allow connection to any chatbot, workflow and marketing automation platforms, they enable end users to create, update and delete contact data, enable two-way SMS communication etc.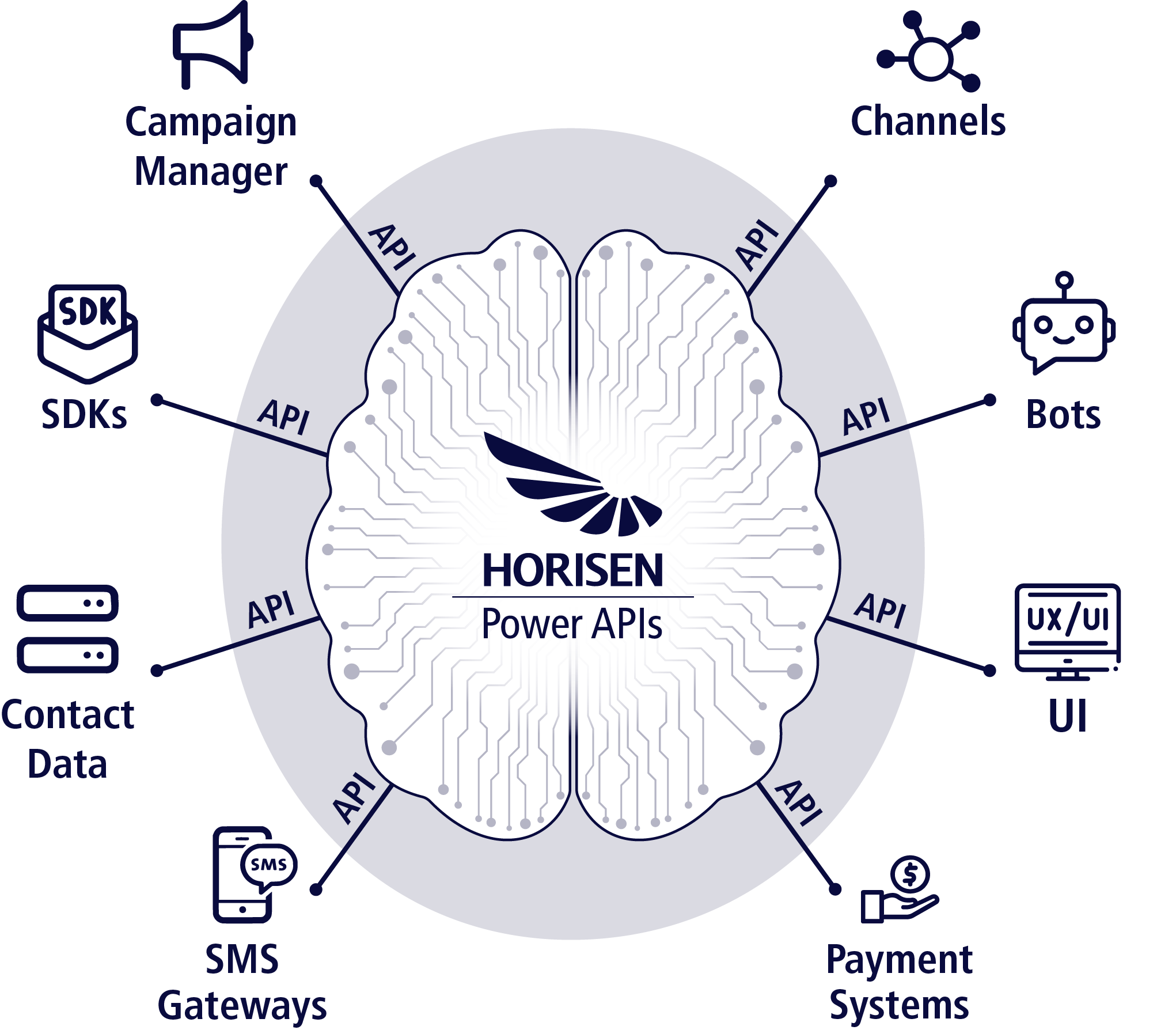 Connect your website or applications with HORISEN Business Messenger easily!
Integrate Business Messenger with existing applications
Bot API: Connect any chatbot, workflow and marketing automation platforms
ChatGPT Bot API: Enable ChatGPT Bot for sending responses in the Easy Dialog app
Contact API: Create, update and delete contact data and custom fields
Inbound API: Connect long numbers to enable 2-way SMS communication
UI API: Show various data from 3rd Party Systems in the Business Messenger portal