Find out how generative AI is changing how service, sales, and marketing teams communicate
55 percent of organizations are piloting or in production mode with generative AI (GenAI) – as per a recent Gartner report.
It also reveals that the business functions with the highest adoption rates are: software development, marketing, customer service, and sales.
The chart below – which showcases GenAI investment by business function – highlights this.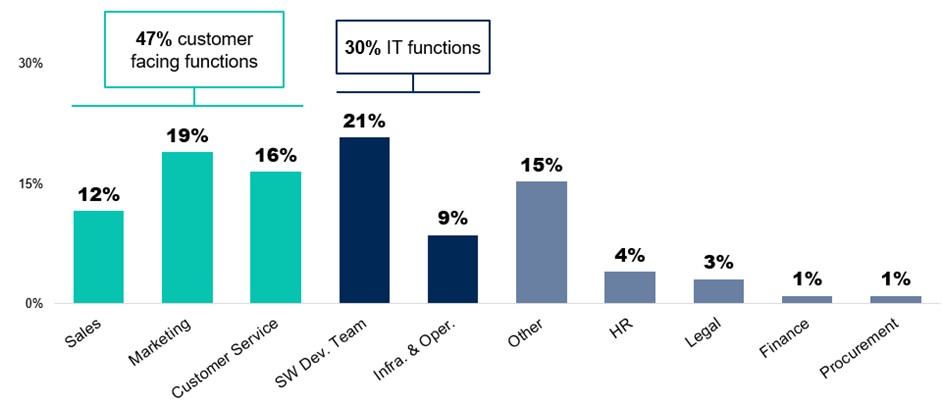 Moreover, it emphasizes the significant value customer-facing functions see in the technology.
That value covers many possible use cases. For instance, LLMs like ChatGPT may support service in managing knowledge, sales in prioritizing leads, and marketing in creating customer segments.
Yet, perhaps the most alluring use case across each of the three functions is auto-generating customer communication and business messages.
The Impact of LLMs on Messaging in Customer Service
LLMs gauge customer intent. They then parse the contact center's knowledge sources – such as its knowledge base, web FAQs, and CRM – to auto-generate a response to various queries.
Using the CRM, it may also personalize the reply. Meanwhile, in understanding the context, some GenAI solutions can even change the tone of their response.
One conversational AI provider recently shared an example of how its solution could do so. In this, the customer submits the following message to a travel company:
"This is Sebastian. I need to change the time on my ticket. We have a family emergency and need to get to London as soon as possible." 
Instead of responding simply with: "What's your ticket number?", the GenAI-powered solution generates a more empathetic response:
"Sorry to hear about the emergency, Sebastian. Could you please provide me with your ticket number so that I can help you get to London as quickly as possible?" 
As such, the technology enables a more personable, compassionate messaging interaction.
Yet, before sending each message, agents have the opportunity to review and make edits. That guards against the much-publicized "GPT hallucinations".
CPaaS providers have proven very quick to make this use case available across many business messaging channels.
For instance, HORISEN makes auto-generated messages possible across RCS, Google Business Chat, and even Viber – alongside various other channels.
However, in addition to service, it does so for sales and marketing use cases.
The Impact of LLMs on Messaging in Sales
Like their service counterparts, sales teams may utilize ChatGPT to draft client responses.
Yet, they may also use such LLMs to auto-generate insights that sales personnel may leverage to better inform their messaging strategies.
For example, they may use the technology to uncover their most valuable customers. That info will help the business prioritize its renewals, and a simple message could kickstart that process.
Moreover, LLMs may also parse historical customer interactions and spotlight the customer's channel preferences – whether that is WhatsApp, Messenger, or another channel.
Such information will allow salespeople to interact with customers and prospects across the channels that are most likely to generate results.
The Impact of LLMs on Messaging in Marketing
LLMs will redefine no-code tooling, allowing businesses to build applications from natural language instead of relying on drag-and-drop interfaces.
Many marketing teams are witnessing this trend firsthand, as they may now create outbound campaigns and market segments through written prompts alone.
These generative segments will help businesses pull together the right customers for the marketing message to maximize views and minimize unsubscribes.
Yet, in terms of the campaign's messaging, LLM-powered solutions can tailor the messaging for each customer so it aligns with their journey so far.
A CRM integration with a solution such as HORISEN enables such use cases.
The GenAI-Powered Future of Business Messaging
Automated business messaging is the future. Yet, for now, LLMs – including ChatGPT – are prone to mistakes. As such, maintaining a human-in-the-loop is essential.
Moreover, by maintaining a human-in-the-loop, businesses can train the LLM they leverage to continually improve and generate more trusted responses.
The insights businesses scrape from customer messaging will also advance – as GPT enhances custom data charting and trending. Meanwhile, it'll make new data visualizations possible too.
Then, there is the latest iteration of ChatGPT – GPT-4 – which sheds more light on how the future of business messaging may change.
For instance, the new ability to mimic a user's writing style highlights how businesses may soon be able to train an LLM to replicate the habits of their best service, sales, and marketing personnel.
Furthermore, it may analyze and classify images – which could help to increase the scope of conversation automation in customer service.
Finally, there is the potential for better authentication, scanning inbound messages, evaluating syntax, and spotting potential fraudsters – yet another powerful new capability.
HORISEN: Moving with the Times
HORISEN is a company that has stayed at the cusp of CX innovation since 2001, giving businesses the power to reach customers across more channels and on more devices.
To stay relevant across such a long stretch, it has embraced emerging trends and was one of the first CPaaS enablers to seize upon the advent of LLMs. Now, its customers are reaping the rewards.
"ChatGPT perfectly aligns with our solution philosophy – allowing our customers to concentrate on business growth while we take care of their messaging software," stated Fabrizio Salanitri, the CEO of HORISEN.
"Through the integration of ChatGPT into HORISEN Business Messenger, we empower company personnel to channel their efforts towards core business operations and more intricate responsibilities." 
"This encapsulates the essence of HORISEN's vision: to optimize the daily workflows of messaging professionals, simplifying their everyday tasks."
To learn more about this vision and HORISEN's hallmark Business Messenger platform, visit: www.horisen.com/business-messenger/.
This article was published at CX Today, a trusted source for industry news.