SMS Marketing for Enterprises
Believe it or not, your prospects are exposed to some 3,000 marketing messages a day, says Seth Godin. Yes, the overall market and business landscape have changed and evolved enormously, introducing inevitable changes to marketing. Although so many different marketing and communication channels have emerged, it has never been harder to engage customers and keep their attention and loyalty. Businesses must put a serious effort into advertising and branding if they want to stay alive and stand out from the competition.
Among all available communication channels, one stands out from the rest due to the fact it has the highest success rate – SMS. Did you know that SMS open rates exceed 99%? Well, it's true.
And even more shocking is that 90% of all text messages are read within 3 minutes of being received on the mobile phone. Furthermore, according to Frost & Sullivan, 98 % of all SMS messages are looked at and are read within an average of five seconds!
Therefore SMS is still the most effective way to reach customers and deliver your marketing message efficiently and cost-effectively. So, the most effective marketing today is Bulk SMS marketing.
Bulk SMS is the easiest and most effective way to interact with and engage your customers by sharing valuable information, announcing product-related news or communicating product/service value.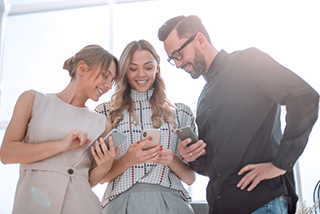 In this way, you can reach out to a broad customer audience worldwide. SMS marketing for enterprises is very successful in spreading brand awareness because you're keeping your clients in the loop, which is one of the most important things to do if you want to build and maintain customer loyalty.
Although Over-The-Top (OTT) instant messaging services (like WhatsApp) start dominating the messaging market, mass text messaging is still the best low-cost direct marketing channel, because SMS is the only messaging application available on every single mobile phone in the world. So, from a business perspective, Bulk SMS is the most efficient way to deliver any message because it provides an easy, reliable and cost-effective way to keep in contact. And everyone in the world can and knows how to use it.
SMS marketing for enterprises is a simple and effective way to instantly connect with all your customers and to grow your business. In the same time, this type of marketing is an easy call to action because it prompts your clients to act on the spot. Everyone carries their mobile phone with them, wherever they go. So if you send them an SMS with a special discount code or you invite them to join the contest, the response rate will be significantly higher than the one achieved when sending the same info via email. SMS marketing is the fastest marketing medium on the planet so that you can expect instant responses from your customers and prospective customers.
Mass text message marketing campaigns can help your business develop and grow because you can connect with your clients and prospects at any time. You can send special offers or sensitive information to your clients and expect a positive response from your marketing efforts. By having constant contact with your customers, you will be able to build a long-lasting relationship with them.
SMS marketing is conducted through application to person service (A2P) which fully automates the whole process of SMS mass-sending. A2P SMS is possible with only a mobile phone number, disregarding Internet access or type of mobile device. A2P includes SMS messages transmitted from a software application to mobile customer and vice versa. The benefit of A2P is engaging customers in a two-way conversation which is crucial for your business and additional marketing efforts. Besides API integration, you don't need any other infrastructure investments. A2P SMS is ideal for enterprises creating almost 100% engagement with customers via mobile.
Large and small enterprises can successfully monetise and utilise SMS through HORISEN SMS Platform, explicitly designed to support end-to-end SMS hubbing business. This way of communication and broadcasting news and messages to clients, staff or partners is very easy and effective since it's done on a mass scale, but from a single spot. Many enterprises have seen excellent results when using this type of direct communication with their customers. Why wouldn't you?