HORISEN introduces ChatGPT Bot API
It seems that the new era of technological innovation has begun with artificial intelligence (AI) technology using deep learning algorithms to generate human-like texts.  With its capacity to comprehend natural language inquiries without any previous instruction or information about the user's context, ChatGPT was immediately recognized as a valuable tool for businesses wanting to enter into dialogue with customers through messaging channels.
ChatGPT has been developed with an impressive conversational style to guarantee that it stays on topic and avoids providing inaccurate responses.  Thanks to its ability to swiftly identify intent and provide in-depth answers, this trained Bot developed by OpenAI instantly found its place in the messaging industry, especially within businesses seeking to cut costs while maintaining high-quality customer service at scale.
Unlocking the possibilities of ChatGPT
The possibilities of using ChatGPT for business messaging are indefinite. Businesses can enhance their customer experience by providing 24/7 customer support via their preferred channel and instantaneous responses to inquiries. With the ability to handle multiple queries at once, chatbots reduce can wait times heavily and boost customer satisfaction. Moreover, it can generate personalized responses by taking into account relevant data, making the customer feel valued and improving their engagement. In the long run, this can help businesses increase sales through upselling and cross-selling.  Additionally, ChatGPT is highly available as they are accessible 24/7, particularly beneficial for businesses with customers in different time zones or those requiring urgent assistance.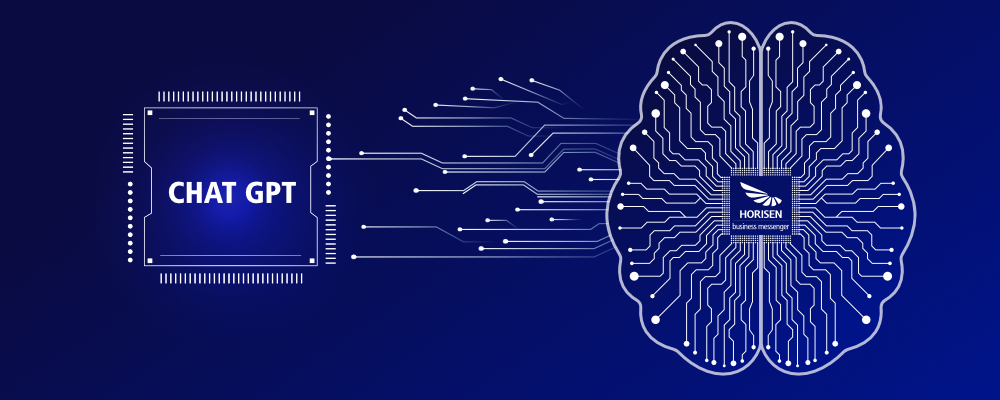 HORISEN Business Messenger empowered with ChatGPT Bot API
With its high scalability, round the clock availability, ChatGPT is the perfect fit for HORISEN Business Messenger.  This multi-award-winning platform for campaign management and omnichannel communication designed for businesses of all types and sizes enables brands to have seamless communication across multiple channels, manageable from a single point. Developed as an "open-box" with full transparency and flexibility, Business Messenger enables its users set up channels, and allow connection to any chatbot, workflow and marketing automation platforms. With its Bot API Business Messenger can connect easily with chatbots of any messaging app taking over the chat flow with the user, bringing a high level of automation to any business using it.
HORISEN Business Messenger takes messaging business to the next level with the newest development – ChatGPT Bot API. It enables users to leverage the full power of ChatGPT for sending responses to end users in the Easy Dialog chatting tool. This already powerful application for maintaining one-to-one chats with the audience through their preferred channels has been further empowered with ChatGPT Bot API offering the business limitless possibilities for enhancing customer communication. With chat support for SMS, WhatsApp, Telegram, Viber, Facebook Messenger, Instagram, Google Business Chat, RCS, etc., HORISEN Business Messenger enables omnichannel approach, which in combination with artificial intelligence generated content makes the perfect match.
"As we constantly listen to the needs of our customers and the market, we quickly realized how much integration with OpenAI ChatGPT could benefit business messaging. With fast response time and swift and precise answers to customer queries, it makes it possible for the company's staff to focus on their daily business and more complex tasks. That is exactly what we do with our solutions. Our priority is that our customers focus on growing their business while we manage their messaging software. That is why our Business Messenger and ChatGPT are the match made in heaven." adds Fabrizio Salanitri, the CEO of HORISEN.