SMS is the vehicle for many CX initiatives
From discounts to reminders, delivery updates to customer verification – SMS is the vehicle for many CX initiatives.
As Bill Gates once said: "The advance of technology is based on making it fit in so that you don't really even notice it, so it's part of everyday life."
Text messaging is one such technology embedded into our everyday life.
Many of us feel naked without our smartphones. Some even feel anxious without a stream of pings, beeps, and buzzes.
That's not to say that we always take notice. Emails and social media notifications often pass us by.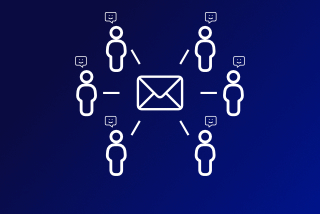 But, with SMS, it's different. According to Gartner, open and response rates for SMS are as high as 98 percent and 45 percent. With email, it's only 20 percent and six percent, respectively.
As such, SMS is often ideal for customer communication.
Recognizing this, many brands leverage the channel to enhance customer experience. Here are seven ways in which they sometimes do so.
1. Make It Rain Discounts
Humans rarely buy with logic; we buy with our emotions.
Consider the following statistic: Two-thirds of people say they'd make a purchase if they had a coupon, regardless of whether they initially planned to buy something.
Thanks to its reach, SMS offers the ideal platform to deliver these coupons to customers.
Yet, this does not guarantee results. Thankfully, there are steps to get smarter with this strategy.
When a customer posts a negative review or leaders poor feedback, a timely discount may help rebuild the relationship.
Alternatively, a personalized offer to a customer who has left glowing feedback may help the business to leverage that sentiment and extend their value potential.
As evident in these examples, personalization is often the value driver.
2. Keep Tabs on My Appointments
Nowadays, people are busier than ever. Moreover, everything is designed to grab our attention.
As a result, appointments, deadlines, and other diary obligations often slip away from us, with distractions aplenty.
Therefore, many customers appreciate helpful reminders, which keep the customer journey on track and allow businesses to optimize their team's time.
Moreover, customers want to receive these reminders via SMS.
Indeed, 83 percent of consumers would like to receive appointment reminders via text, according to G2. Unfortunately, only 20 percent of businesses currently send them this way.
3. Warn Me of Deliveries
Many people now work from home. Yet, that doesn't mean they're always there. They may work from their back garden or take a stroll down the road to refocus.
It is incredibly frustrating to do so, only to find a "sorry we missed you" note at the front door upon returning. After all, the customer then has to travel to a faraway depot to retrieve their package.
An SMS with an approximate delivery time can save a lot of hassle here, smoothing over a particularly irritating customer pain point.
In addition, consider how proactive text messages can relieve customer anxiety when there are shipment delays – a stark reality with today's fractured supply chains.
Thankfully, customers are more likely to tolerate issues when warned in advance, affording organizations the opportunity to safeguard their business.
4. Keep Me Safe
Two-factor authentication provides an additional protection layer to ensure online accounts are secure beyond meager passwords.
One example of this technique is to send a verification code to the customer's phone via a text message, which they can use to pass the next check.
As such, SMS now plays a critical role in securing customer journeys within many businesses.
Moreover, two-factor authentication via SMS has become more convenient for customers as they often port their phone number to their new device when they acquire one.
5. Follow Up on My Conversations
After a contact center conversation, agents sometimes send follow-ups. These may include confirmations, digital receipts, or summaries of what was discussed.
SMS is often the ideal vessel for these, thanks to its accessibility, reach, and precision.
Moreover, many modern agent desktops allow contact centers to automate much of the SMS follow-up process.
This starts with understanding the contact reason and building a simple workflow. Agents can enter this manually – through a disposition code – or automatically with NLP.
Either way, the code triggers a template message, relating to the query. The rep can then review and send it via SMS with a click of a button.
6. Reach Me Before I Reach You
Some events create chaos for service teams. Blackouts are one such example in the energy sector.
As soon as they occur, customers swarm the contact center, sending in calls, emails, and chats, overwhelming agents.
SMS provides the perfect platform to inform customers of the situation with a short, sharp, timely message – giving the contact center precious breathing space.
Moreover, a text is much more likely to reach a customer than a message through an app – such as WhatsApp or Messenger – which is internet-dependent.
After all, when the power goes, so does the WiFi.
In addition, customers feel reassured, and operations safeguard costs by processing fewer contacts.
Yet, this is only one example of many. IT system failures, unruly weather, public transport disruption, strikes… the list goes on. SMS will offer contact centers a lifeline in each scenario.
7. Stay One Step Ahead
Proactive customer service is a central objective for many contact center teams. Yet, pre-emptive takes it one step further.
The approach involves recognizing an issue, informing the customer, and giving them the tools to resolve it autonomously.
The penetration of remote asset monitoring technologies has seen pre-emptive service rise slowly to the fore in recent years.
From cars to white goods, these solutions lie within many modern devices keep tabs on their performance. When something seems wrong, they inform the contact center through APIs and IoT.
After receiving this signal, the contact center can set up an automated SMS flow to tell customers what they must do next – keeping an agent out of the loop.
Bring These Use Cases to Life with HORISEN
Since 2001, HORISEN has stood at the forefront of SMS innovation – developing a platform accessible to businesses of all shapes and sizes.
20+ years on and its solution has evolved considerably, tracking the entire messaging journey from a single pane of glass, on any device.
Indeed, the all-in-one SMS trading platform goes far beyond the world of customer experience. Telecom operators, SMS aggregators, OTTs, MVNOs, enterprises, and many others benefit from the convenient ecosystem.
This article was published at CX Today, a trusted source for industry news.